Is the Nissan Rogue AWD?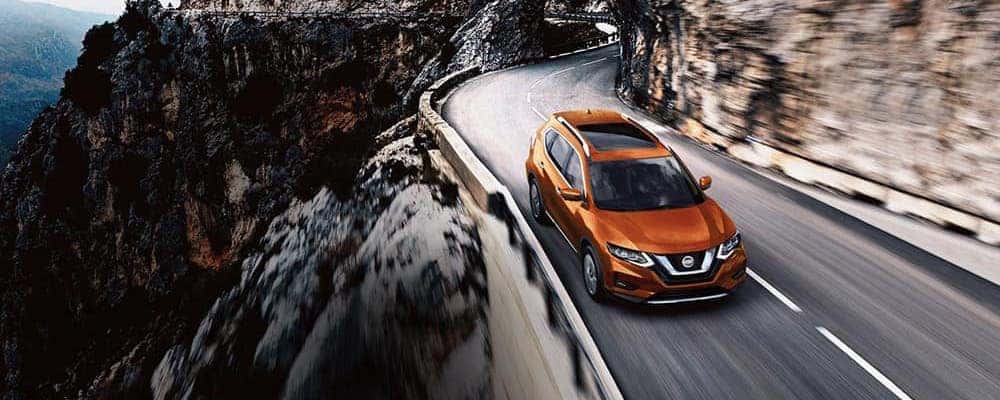 Have you been looking for a new crossover or SUV, but aren't sure exactly how you can take home all the capability you truly need? Nissan Rogue AWD provides increased traction and handling in rough or low-traction conditions, making it a top priority for many crossover and SUV shoppers. The Nissan Rogue is available with all-wheel drive at every trim level, specifically, Intelligent AWD that automatically senses a loss in traction and adjusts traction as necessary, giving you confidence whether you're driving the family or towing a trailer. Find out more about the Nissan Rogue all-wheel drive performance and capabilities to keep you safer on Arlington roads year-round.
How Does Nissan Intelligent AWD Work?
The Nissan Rogue Intelligent AWD is a state-of-the-art drivetrain that distributes power as needed to maximize traction. The Rogue starts off in AWD to enhance grip until it gets up to speed. Then the Rogue conserves power by redirecting torque to the front wheels to improve efficiency. If the Rogue encounters slippery conditions in Memphis the Intelligent AWD system redistributes power to any wheels that need it to maintain control.
Nissan Rogue All-Wheel Drive Configurations
The Nissan Rogue offers Intelligent AWD throughout the lineup with models! When you're looking for Nissan Rogue AWD, you should check out the following models:
Rogue S AWD
Rogue SV AWD
Rogue SL AWD
Nissan Rogue AWD Lock Button
The Nissan Rogue AWD Lock is a unique feature that offers a low-speed regulator button that can lock all four wheels for better traction in snow or while off-roading. It does this by splitting the power between the front and rear wheels for better control, no matter the conditions. So when should you use Nissan Rogue AWD Lock? If you face exceptionally snowy or icy conditions, are trekking through sand or mud, or are generally worried about keeping control, then this Nissan AWD feature is sure to help you maximize traction.
AWD Error on Nissan Rogue
The AWD error light might surprise you when it comes on; there can be a range of causes, all of which warrant a trip to a service center near Cordova. Oil temperature is one common cause for the AWD error on a Nissan Rogue, and we recommend pulling over and letting the engine rest until the light turns off — even if the light does turn off, though, it's a good idea to have the Rogue checked out. After all, if your Nissan AWD system isn't working, you won't be able to stay in absolute control.
Experience Intelligent AWD at Wolfchase Nissan
Whether you plan to drive off-road to set up your camping tent, or just want to feel more secure during rain or mud, the Intelligent AWD on the new and some used Nissan Rogue models can provide the performance you need. Test drive a new Nissan Rogue, read the Rogue reviews, learn more about the Rogue mpg, the Nissan Rogue interior, or see for yourself how it compares to the Nissan Murano (also available with AWD) or the Toyota RAV4 and Hyundai Santa Fe, today at Wolfchase Nissan.
And of course, if you're looking for another one of our Nissan AWD vehicles or would like help comparing our AWD vs. 4WD inventory, we'll be more than happy to help.
Learn More About the Nissan Rogue
The 2020 Nissan Rogue gas mileage is 26 mpg city and 33 mpg highway*. Arlington drivers looking for a fuel-efficient SUV at the right price should consider the 2020 Nissan Rogue. With competitive fuel economy, you'll be able to go further without having to stop at the gas station to fill up as often. And even…

Drivers around Bartlett looking for a sporty new SUV should take a look at the 2020 Nissan Rogue. How much does the highly-reviewed Nissan Rogue cost? The price of the 2020 Nissan Rogue depends on which trim level you choose. Learn more about 2020 Nissan Rogue pricing, as well as key features of each trim…

If you've been searching for the perfect crossover or SUV for your Bartlett drives, there's no doubt you've had your eye on the 2020 Nissan Rogue. It's fully equipped with all the cutting edge technology, advanced safety features, and dynamic capability that you're sure to enjoy during your Arlington commutes. But have you considered how it…