How to Jump Start a Car: Step-by-Step Guide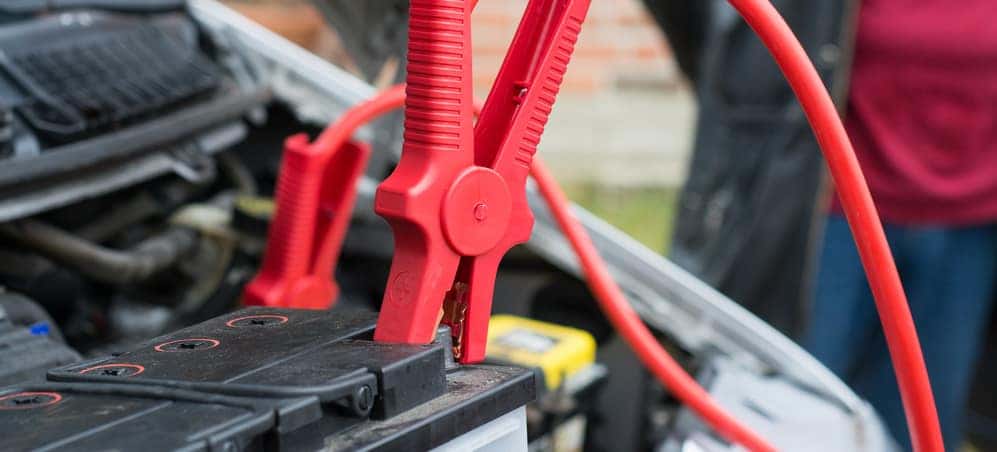 Can't start your vehicle? You will most likely need to jump start your car battery. And even if your vehicle is running fine, learning how to jump start a car is still an essential skill to learn! This quick guide from Wolfchase Nissan offers instructions and tips on how to properly jump start a car. When your battery on your Nissan starts to die, visit our service center near Arlington for a replacement.
The Right Way to Jump Start a Car
Are you ready to learn how to jump start a car? You can either contact a jump start service like AAA or attempt a jump start yourself. If you go with the DIY option, you will need another vehicle and a set of jumper cables. Once you've got that settled, follow these steps:
Park the car with the good battery park facing the vehicle that won't start, then make sure that your vehicle is turned off. Check to make sure both parking brakes are engaged.
Open the hoods of both vehicles and find the batteries. You may need to remove a plastic hood to expose the battery terminals.
Locate the positive and negative terminals and make sure they're clean and free of any corrosion.
Place the red clamp to the positive post on the dead battery.
Hook the other red clamp to the positive terminal of the battery with the charge.
Connect the black clamp to the negative post on the good battery.
For the final clamp, connect it to an unpainted metal surface on the car's frame.
Once everything is securely fastened, start the engine of the vehicle with the good battery first, then the one with the dead battery.
You've done it! You've learned how to jump start a car with help from our team at Wolfchase Nissan. If you're having issues learning how to jump start a car, be sure to give us a call at 800-721-9255 for some live assistance.
Additional Battery Tips and Tricks
In the event that your car won't start, you may need your battery replaced or there could be a more serious issue. Take these steps to troubleshoot the issue:
If you only hear a clicking sound when you attempt to start your vehicle, the starter might not be functioning. Schedule service at Wolfchase Nissan near Memphis for a replacement.
If the engine fails to turn over, but the electrical systems of the car turn on, then the problem may stem from a variety of issues. The ignition switch, battery, starter, or a fuse could be the problem. It's worth bringing your vehicle to a service center so they can diagnose the issue.
Make sure to keep your vehicle running for a while after getting the jump to allow the battery to fully recharge.
Get Service for Your Nissan at Wolfchase Nissan
Whether you need help with a new battery, learning the color of transmission fluid, how to check brake fluid, need new tires, or you want to know why your vehicle is leaking water, the service center at Wolfchase Nissan can help. Our service center is located just a short trip from Germantown, so stop by today. Contact our Nissan service center today if you have questions about when to replace spark plugs, why OEM parts are better, when you need to replace your battery, or how to make your tires last longer.
Be sure to also check out our top 10 maintenance items and learn about the benefits of OEM parts to be sure you're taking the best care of your car as possible.
More From Wolfchase Nissan
Looking for a practical and high-tech Nissan SUV in the Arlington area? You'll want to check out the 2023 Nissan Pathfinder. You can take full advantage of remarkable features and strong performance specs. But just how much can the 2023 Nissan Pathfinder tow? Find out what the 2023 Nissan Pathfinder can tow and what…

Here at Wolfchase Nissan, we're dedicated to helping you find the perfect Nissan SUV for your Arlington commute. How much does the 2023 Nissan Pathfinder cost? We've broken down the 2023 Nissan Pathfinder prices and configurations, so you can make an informed purchasing decision! Explore each of the 2023 Nissan Pathfinder trim levels with the…

Shopping for your next Nissan sedan in Arlington? Looking for a dependable daily commuter that comes with a spacious cabin, cutting-edge features, and lavish amenities? You'll find everything you're looking for inside the 2023 Nissan Altima for sale at Wolfchase Nissan! Find out more about the 2023 Nissan Altima seating capacity, dimensions, and more with…