How Often Should You Rotate Your Tires?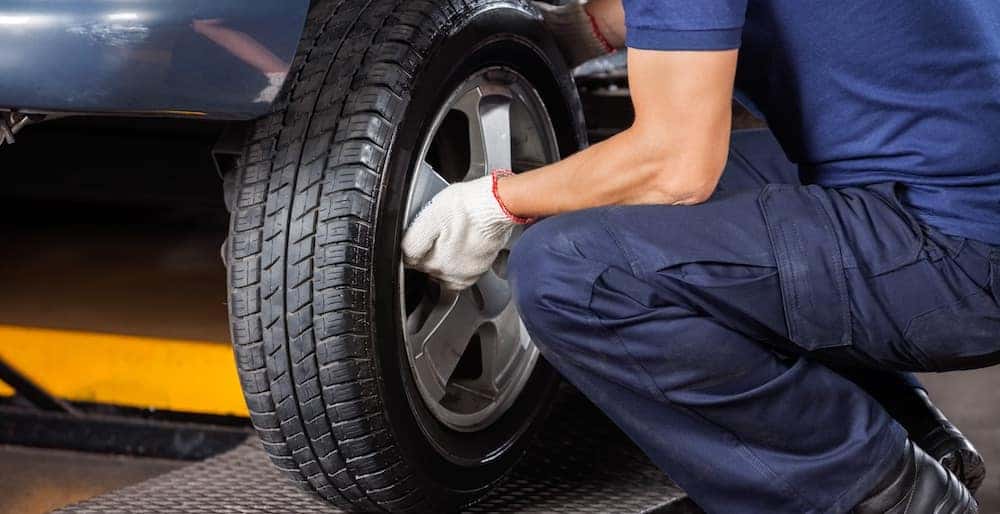 You know you should get an oil change every 5,000 to 10,000 miles, but how often should you rotate your tires in Arlington? The general rule of thumb for when to rotate your tires is every 5,000 to 7,000 miles. You can also check your vehicle's owner's manual for the specific interval.
Service Center Schedule Service
Why do You Need to Rotate Your Vehicle's Tires?
While this may seem optional, it's actually a very important part of routine maintenance and highly recommended. That's because your tires experience wear and tear unevenly, which can limit their lifespan. By rotating the tires regularly, you promote more even wear, so they can last for as long as possible as you drive around Memphis.
When to Rotate Tires on RWD and  FWD Vehicles
Front-wheel drive and rear-wheel drive vehicles can follow the 5,000- to 7,000-mile rule for tire rotations. If you're doing a tire rotation at home near Cordova, this is what you should know:
FWD Vehicles: Move the back tires forward to the opposite sides. Left back tire goes on the front right side. The front tires move straight back, so you put the front right tire on the back right side.
RWD Vehicles: The front tires move back to the opposite sides, so the front right tire goes to the rear left side. The back tires move straight forward, so the back left tire goes on the front left side.
How Many Miles to Rotate Tires on AWD Vehicles?
All-wheel drive vehicles require that the tires be rotated more frequently — every 3,000 to 5,000 miles. That's because each individual tire wears differently. If you are taking your vehicle off-road and have speciality tires installed, your rotation interval might be different. Check your vehicle's manual and your tires to ensure you're rotating them regularly.
Get Tire Maintenance and More with Wolfchase Nissan
If you can't remember the last time you had your vehicle's tires rotated, you never have, or you notice your car leaking water, now is a great time to schedule an appointment in Bartlett with the Wolfchase Nissan service center. You can also contact us online if you have any service-related questions including how to diagnose the color of your transmission fluid, checking brake fluid, or to browse our inventory of used Nissan Altima models.
Want to learn more? Compare collision and comprehensive coverage, or learn how to make your tires last longer with our team! We'd love for you to check out this list of our top 10 maintenance items, Nissan Murano trim levels, and benefits of OEM parts to be sure you're taking great care of your vehicle.
More from the Wolfchase Nissan Service Center
Most times when your car is leaking water, it's the condensation from the car's air conditioning system. Normally though, when a vehicle is leaking water, it's not serious. If you notice a small puddle of water near the back of the engine compartment, this is the cause. If you notice the water near the tailpipe,…

You know you should get an oil change every 5,000 to 10,000 miles, but how often should you rotate your tires in Arlington? The general rule of thumb for when to rotate your tires is every 5,000 to 7,000 miles. You can also check your vehicle's owner's manual for the specific interval. Service Center Schedule…

Can't start your vehicle? You will most likely need to jump start your car battery. And even if your vehicle is running fine, learning how to jump start a car is still an essential skill to learn! This quick guide from Wolfchase Nissan offers instructions and tips on how to properly jump start a car. When…