2022 Nissan Pathfinder Preview: What We Know So Far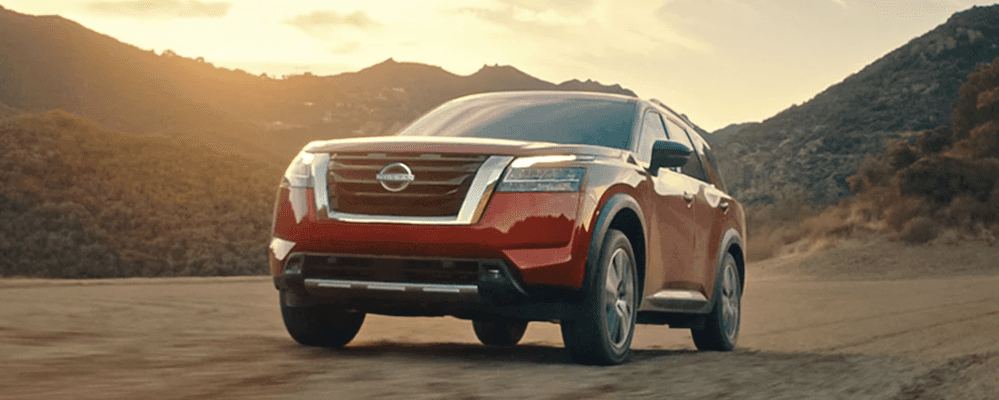 The 2022 Nissan Pathfinder has recently been announced and is expected to see a full redesign. Memphis drivers can read on to learn more about the 2022 Nissan Pathfinder redesign, as well as the expected 2022 Pathfinder pricing and release date. We'll also go over the 2022 vs. 2021 Nissan Pathfinder and what's changed for the new model year. If, after reading, you have more questions about the 2022 Nissan Pathfinder, contact Wolfchase Nissan in Bartlett. We'll answer questions you might have about this new Nissan SUV!
When is the Expected 2022 Nissan Pathfinder Release Date?
The 2022 Nissan Pathfinder is expected to be released in Summer of 2021! Keep your eyes peeled for 2022 Pathfinders arriving at our Bartlett Nissan dealership in the near future.
How Much Will the 2022 Nissan Pathfinder Cost?
Nissan has not yet disclosed the price of the next 2022 Nissan Pathfinder. Since this will be a full redesign, we expect it to cost a little more than the 2020 model. However, this new Nissan SUV's trims will likely remain within a price range that begins in the low $30s and peaks in the upper $40s. Just remember to take pricing info in our 2022 Nissan Pathfinder preview with a grain of salt, and check back for live updates. We'll have the official pricing as soon as it's public.
2022 vs. 2021 Nissan Pathfinder: What's Changed?
First things first, the 2021 Nissan Pathfinder never was. The most recent iteration of the Pathfinder was the 2020 release. Nissan skipped 2021 to prepare for an early release for the 2022 Nissan Pathfinder in the Summer of 2021. So, more accurately: how will the 2022 Nissan Pathfinder redesign differ from the 2020 model? How do the two models compare?
2022 vs. 2021 Pathfinder Similarities
The 2020 Nissan Pathfinder 284-hp 3.5-liter engine remains for 2022.
They also share the same suspension.
Both models are expected to have identical cabin dimensions.
2022 vs. 2021 Pathfinder Differences
The 2022 Pathfinder will feature a new all-wheel drive system.
Nissan is also introducing a new transmission for 2022.
A new electric steering rack will allow you to better adapt your Pathfinder's handling to the roads ahead.
Cargo space has been increased from 16 cubic feet to 16.6 cubic feet.
The 2022 Nissan Pathfinder is undergoing an exterior design overhaul.
All seats can now be upgraded to captain's chairs.
Nissan has added additional storage cubbies around the cabin to optimize cargo space.
Test Drive a New Pathfinder SUV in Bartlett
The Nissan Pathfinder skipped 2021 in anticipation of an early release date in 2022. If you're interested in test-driving the 2020 Nissan Pathfinder in Bartlett while you wait for the 2022 Nissan Pathfinder, call Wolfchase Nissan at 9012553801. We can also answer any outstanding questions you have about our 2022 Nissan Pathfinder preview, whether they be related to the 2022 Nissan Pathfinder release date, pricing, or redesign highlights. Be sure to also explore our Nissan research guides for more information about the Nissan powertrain warranty and more!
Recent News From Wolfchase Nissan
Are you in the market for a new SUV for your growing family? The Nissan Rogue offers ample space for everyone to stretch out and enjoy the ride and plenty of advanced technologies and premium interior amenities to enhance your overall driving experience. But what about the 2023 Nissan Rogue's towing capacity? When properly…

Are you searching for a reliable Nissan SUV near Arlington? Then you'll want to invest your hard-earned money in the 2023 Nissan Murano. This all-new Nissan vehicle provides you with a commodious interior cabin, protected exterior hull, and cutting-edge powertrains. But what can the 2023 Nissan Murano tow across the Memphis area? Find out…

Are you interested in exploring the 2023 Nissan ARIYA interior? Arlington drivers have fallen for this bold new electric Nissan SUV, and excitement has never been higher. Yet, there are still some questions remaining, like what are the 2023 Nissan ARIYA interior dimensions and interior colors? How many passengers can fit inside the cabin?…